Courtesy of Carolina Memorial Sanctuary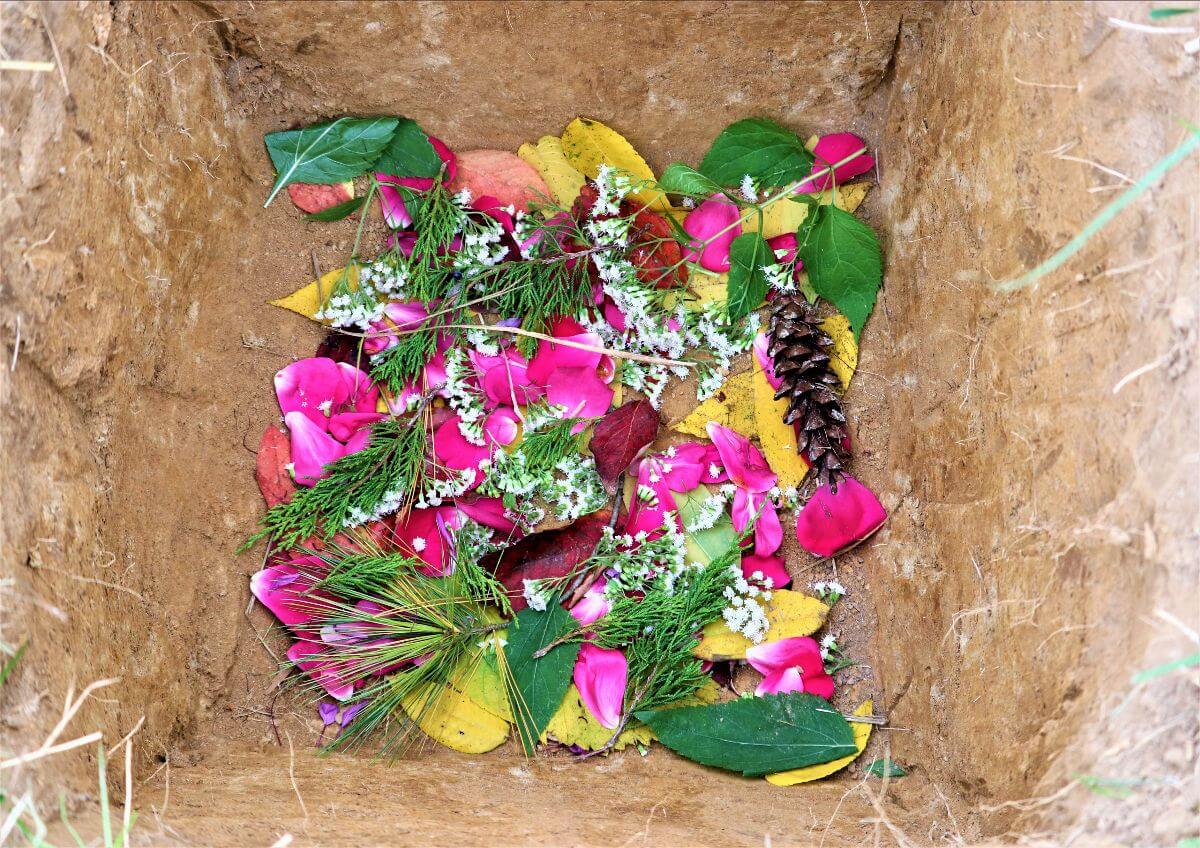 Although no two burials at Heritage Acres are exactly alike, this list provides a general idea of what you can expect. For a typical green burial, you may:
arrive at the cemetery and be greeted by someone from Heritage Acres, who will gladly answer any questions you may have;
participate in a procession to the gravesite (please wear shoes suitable for uneven ground);
see a grave that is decorated with flowers and native vegetation. For a body burial, expect slats and ropes to extend across the opening of the grave until the body is lowered;
find flowers, pine boughs, twigs, or other biomass covering the bottom of the grave to promote aeration and decay;
facilitate a ceremony or service, if desired;
participate in lowering the body into the ground, if desired;
help fill the grave with soil, if desired;
help cover the burial mound with flowers and native plants.
Ritual is energy medicine for the collective body.
A natural "green" burial at Heritage Acres lovingly offers friends and family members the opportunity to honor and commemorate, in their own unique and personal way, the life of someone who has died. We provide many options for those who are seeking death practices and rituals that are meaningful and intentional about strengthening the bonds we all share with the earth, and with each other.
A graveside ceremony might include readings, prayers, music, eulogies, and stories about the lost loved one, and also rituals such as helping to lower the body into the grave, closing the grave with dirt, and tossing flowers into the grave. A minister or spiritual leader may be present to officiate the event, if desired. The ceremony may conclude with a picnic or gathering after the burial when friends and family members can commune with each other and take the needed time to share memories and support one another through the grieving process. There is no extra fee or charge to have these services at Heritage Acres.
There is no one right way to grieve, and Heritage Acres is committed to holding space for people to physically process their grief. Although a ceremony is optional, it can be a powerful way to facilitate our human and instinctive call to grieve, to share tears and sadness, to find laughter and healing. All family members and friends are encouraged to participate, as they are comfortable, in a green burial ceremony. It can be a deeply spiritual, transformative, and visceral experience that anchors everyone involved to the beauty of the landscape and the natural cycle of life and death.
Are you interested in learning more about Heritage Acres? Would you like to get involved? Do you have suggestions or feedback for us? We'd love to hear from you.
Sanctuary Address:
796 Locust Corner Rd.
Cincinnati, OH 45245
Mailing Address:
2710 Newtown Rd.
Cincinnati, OH 45244

Phone: (513) 231-6438