Heritage Acres is not only a natural burial ground, but also a preserve dedicated to protecting land from development, conserving natural habitats and ecosystems, and allowing our bodies to return organically to the Earth. We accomplish these efforts through the hard work of our growing pool of dedicated volunteers, and through revenue generated from burial fees, grants and foundation support, individual donations, and our sustaining donor program.
We invite you to help us in these efforts by becoming part of our circle of friends who believe there is a better way to care for our deceased loved ones and the environment. Please consider:
Volunteer
It takes a village . . . to create the kind of natural burial ground that Heritage Acres is becoming. For the past two years – beginning well before we even closed on the purchase of our gorgeous 40 acres on the eastern edge of Cincinnati – an ever-growing group of passionate volunteers has been working hard to tend to the beloved patch of ground we call Heritage Acres.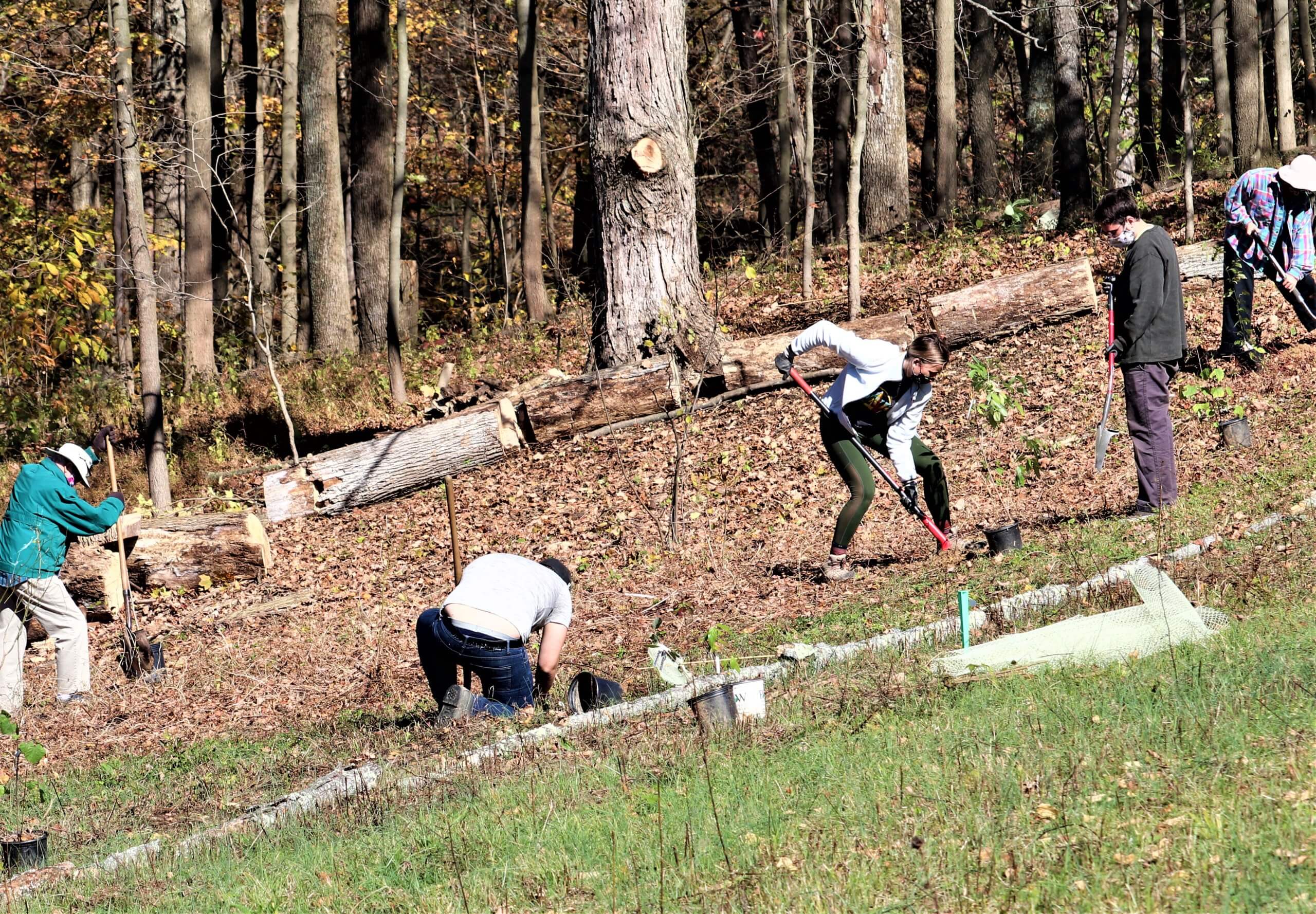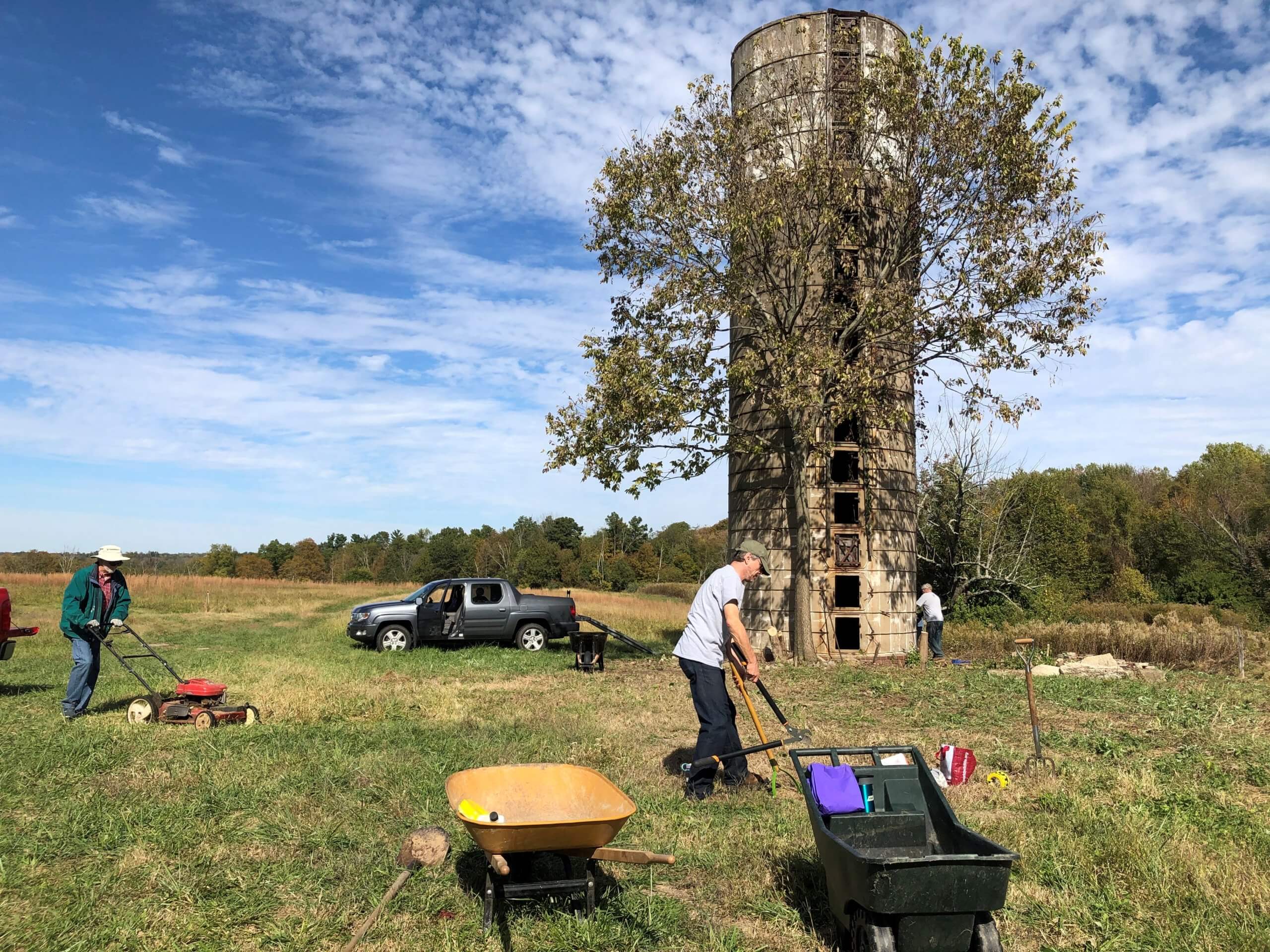 With an abiding love, equal parts tenderness and determination, and more than a little sweat equity, our volunteers have transformed a once-vibrant farm into a lovely natural burial ground and sanctuary. As is the case every time folks gather at Heritage Acres to participate in the transformation and sanctification of this very special piece of Earth, our volunteers experience a powerful sense of community. Heritage Acres simply would not be the beautiful natural setting and burial sanctuary it is today without our amazing volunteers!
To become a volunteer, please contact us!
Become a Sustaining Donor
Sustaining donations help Heritage Acres better serve the families who have placed their trust in us. With consistent, reliable income, we can also be good stewards of the land we're working to preserve. We can support our staff with a livable wage and help to keep the costs of green burial accessible to everyone.
Need some reasons why you should become a sustaining donor? We're glad you asked!
It's Automatic: Your sustaining donation is charged to your credit card each month for as long as you want to continue to support the work we do. You can cancel, increase, or decrease your donations at any time.
It's Green: We're all about reducing and reusing. Because your donations happen virtually, it's just safer – and greener.
It Creates Greater Impact: Because we can count on your donation month after month, we can dedicate more resources to initiatives other than fundraising.
It's Dependable: Heritage Acres Memorial Sanctuary can plan its revenue and expenses more accurately, allowing us to do more.
We Will Honor You: You'll be recognized publicly in our newsletter and receive certain Heritage Acres perks (TBD)!
You designate the monthly amount you want to contribute on your credit or debit card. Indicate you want your donation to be "recurring."
PayPal takes care of the rest – charging your card as frequently as you indicate, until you notify them to stop.
You can contribute to Heritage Acres at any of the following levels:
Make a One-Time Donation
If you are not ready to be a sustaining donor, please consider making a one-time, tax-deductible contribution to Heritage Acres. Your support will go toward any number of initiatives vital to fulfilling our mission.
Make a Memorial Contribution
A donation in memory of a loved one is a beautiful way to honor both their life, and your commitment to a sustainable future for generations to come. Simply follow the instructions above to "Make a One-Time Donation," but indicate that your contribution is "In Loving Memory of . . ."

Are you interested in learning more about Heritage Acres? Would you like to get involved? Do you have suggestions or feedback for us? We'd love to hear from you.
Sanctuary Address:
796 Locust Corner Rd.
Cincinnati, OH 45245
Mailing Address:
2710 Newtown Rd.
Cincinnati, OH 45244
Phone: (513) 231-6438